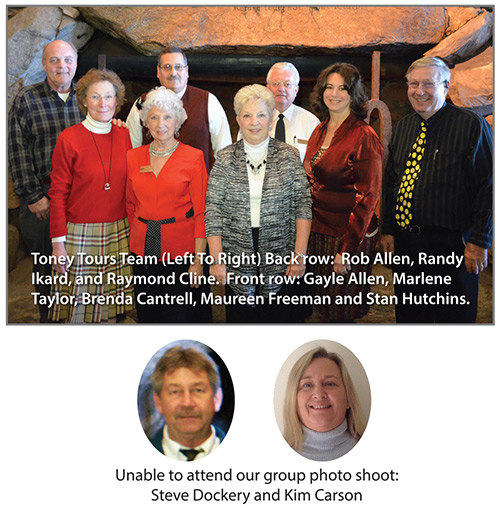 36 Years Making Travel Dreams Come True
We are proud to present the 2013 Travel Adventures web edition as we celebrate our 36th anniversary. Our new travel season features several new tours and lots of the favorites to the top destinations in the United States and Canada. We have included a variety of adventures, from great one-day excursions, two and three-day "Getaways" and week-long and longer "cross country" travels. As you browse, we hope you will find that perfect destination for your special vacation this year. There are lots of amazing choices from a Braves baseball game, to Myrtle Beach, to the Holland Tulip Festival, to PA Amish Country, Riverboatin' on the Mississippi, Yellowstone and many, many more. Faced with economic uncertainty and rising prices, 2012 has been a challenging year for us however, we continue to strive to offer the finest tours possible at the most affordable prices.
We, Rob and Gayle, were both born and raised in the Midwest, but consider ourselves Southerners, having lived most of our lives south of the Mason-Dixon Line. Over the past couple of years we have met so many nice people that we now consider friends. It is always such a treat when we have the pleasure to join a group on their travels.
We would like to take this opportunity to thank our loyal travelers, many of whom have been traveling with us for years and even generations, and with open arms welcome the many new faces to the Toney Tours "family". We hope everyone will find that someplace special and that our tours, new and old will spark new and exciting interests.
A special thanks to our Tour Directors, who make sightseeing memorable. They make us feel like old friends…a comfortable and reassuring feeling when we are out of our normal environment. Also, heartfelt appreciation goes out to our Drivers, who get us to our destinations and back home in a safe and timely fashion. We have the best!
We look forward to an exciting 2013 and making your travel dreams come true!