Holland Tulip Festival
Ford Museum and Meijer Gardens
May 5-9

Price per person:
| | | | |
| --- | --- | --- | --- |
| Double - $699 | Triple - $675 | Quad - $657 | Single - $809 |
Meals Included: 4B, 1L, 2D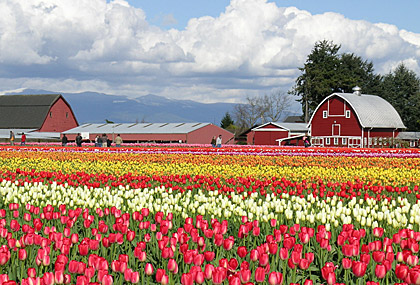 Holland celebrates its Dutch heritage with the Tulip Time Festival. Since 1929, the small city of Holland, Michigan, has blossomed with literallyhundreds of thousands of tulips. We will experience everything from classic architecture to whirling windmills to klompen dancers.
1 We journey west on I-40 through the Great Smoky Mountains of Western North Carolina and Eastern Tennessee to Knoxville and then north on I-75 into the "Bluegrass State" of Kentucky. We will stop at the Louisville Slugger Museum and Factory. Since 1884, Louisville Slugger has put prime lumber in the hands of the greatest players of the game. We will take a brief factory tour and see firsthand how bats are made, labeled and painted – fascinating! Lots of history here and a great museum. We will overnight in Seymour, Indiana.
2 Our first stop today is Notre Dame, in South Bend, Indiana, where our guided walking tour will include an historical overview with visits to the Grotto, Basilica of the Sacred Heart, the Golden Dome and "Touchdown Jesus". After a short trip up the road to Holland, Michigan, we arrive at Windmill Island Gardens. A palette of color awaits us as we wind along the entrance to Holland's treasured island. Enjoy over 150,000 tulips on 36 acres of manicured gardens, dikes, canals and walking paths and see the 250-year-old authentic working Dutch windmill, "De Zwaan". A specialdinner is planned for this evening.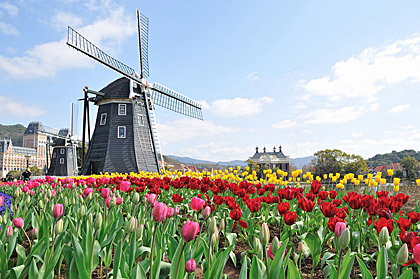 3 We start our day at Veldheer's Tulip Garden, Holland's only tulip farm, ablaze with over 5 million tulips for us to stroll through. Right next door, wecan talk with artists who mold, hand-paint and glaze the only authentic blue and white delftware made in the United States, and watch wooden shoe carving on machines that were imported from theNetherlands. Our luncheon show features a popular song-and-dance musical extravaganza. We are in for a treat this afternoon at Nelis' Dutch Village, where we will take a step back in time and experience the Netherlands of the 1800's in acres of authentic Dutch architecture, canals and morespectacular gardens. Enjoy the klompen dancers and music from the Amsterdam street organ and pursue the myriad of Dutch crafts and artwork before heading off on a guided tour of Holland. This evening it's dinner and the New Odyssey – a show that will amaze and entertain us with the latest technology and timeless musical compositions.
4 This will be another fun-filled day. We'll begin with a visit to the Gerald R. Ford Museum in Grand Rapids. In the Museum we'll find a wealth of information on Ford's life, Vice-Presidency, the 1976 campaign and other traveling exhibits. We then make our way to the Frederik Meijer Gardens to discover the beauty and splendor of this spectacular botanical garden and world-class sculpture park, featuring over 70 permanent bronze pieces. A special feature at the gardens is a three-story-tall casting of Leonardo da Vinci's Horse. There is none other like it in the Western Hemisphere! This is our last stop before heading to Dayton, Ohio, for overnight.
5 Homeward bound! We continue south today, traveling through Cincinnati, Lexington and Knoxville, making a stopin Sevierville before arriving in Asheville. We'll say farewell to our traveling family and start planning our next travel getaway.